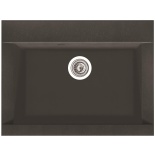 SMC is composite material, made of quartz, fiberglass and polymer resin that hardens when heated to an irreversible solid state.
SMC kitchen sink chracteristics
Great sturdiness due to long resin fibers – very high resistance to mechanical shocks and in case of sink fall. No damage in case of free fall of a 2 kg domestic utensil on the sink.
High heat resistance – up to 200˙C
Resistante to stains and chemical agents
Non-porous material – enables easy cleaning and hygiene, safe to come in contact with food
High UV resistance – kitchen sink can be installed under the window.
Granular surface – gives a natural look
Lightness of the sink – easy to transport and install
Daily care of SMC kitchen sinks
Regular care of the SMC sink will ensure quite an unlimited lifetime of the kitchen sink.
The sink should only be cleand with a soft cloth or sponge, warm water and a mild detergent.Rinse with clean water and dry using a soft cloth. Do not use abrasive detergrnts or products which contain abrasives or dhemical substances.
In case of minor schratches, it is recommended to apply paraffin oil after cleaning the sink.
SMC kitchen sinks :
Are manufactured in accordance with EU legislation and bear the CE marking
Meet the requirements of EN 13310 standard
have 5 year warranty